13th September 2019
Award Ceremony 2019
On September 12, the following three post-doctoral students of Frankfurt's Goethe University were awarded with the "Life Sciences Bridge Award": biochemist Dr. Inga Hänelt, pharmacist Dr. Daniel Merk and biochemist Dr. Christian Münch. 
The annual postdoctoral award is sponsored by the Aventis Foundation and endowed with a subsidy amount of € 100,000.
By granting the Life Science Bridge Award, the Aventis Foundation aims to provide individual support to talented researchers, to enable them to conduct their own independent research at the earliest possible stage and encourage them to pursue bold and unconventional ideas. Each year, the awards will be granted in cooperation with specific scientific institutions like universities and research institutes. For 2019, the Foundation will partner with the Goethe University Frankfurt. The awards will be given to academics with a doctorate or habilitation, junior professors and tenure- track-professors who aim for an academic career but do not yet hold full and permanent professorship.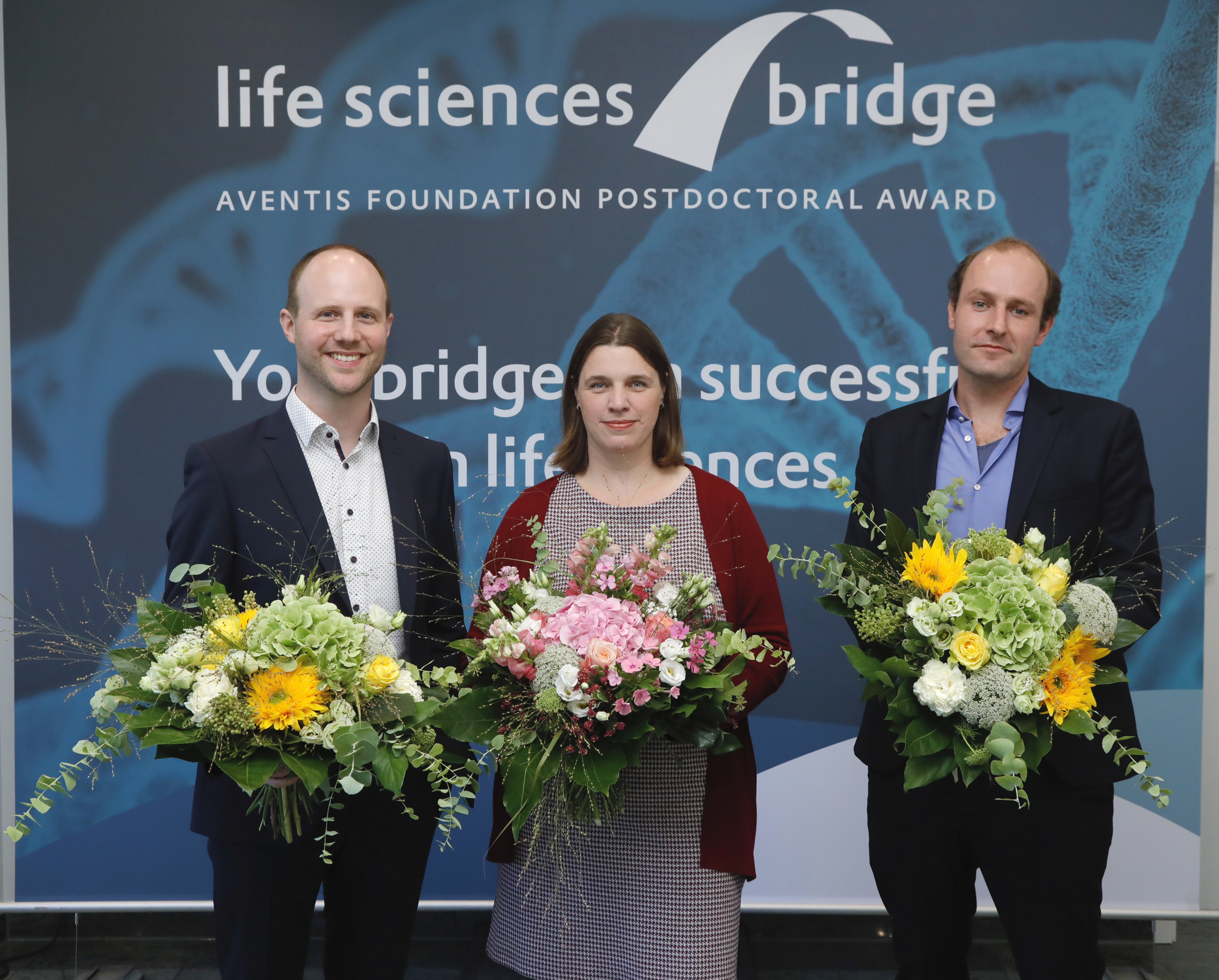 Dr. Inga Hänelt is a biochemist at the Institute of Biochemistry. Her research focuses on the communication of bacterial biofilm.
Read more

Pharmacist Dr. Daniel Merk works at the Institute for Pharmaceutical Chemistry to study how receptors inside the cell or the cellular nucleus can be purposefully modified by drug substances.
Read more

Biochemist Dr. Christian Münch works at the Institute of Biochemistry II to study the cluttering and resulting death of folded proteins inside the neural cells.
Read more
So far, neither of these outstanding junior researchers holds a permanent position. The Aventis Foundation Postdoctoral Award enables them to be less dependent, to realize their research projects and qualify for full professorship. This is meant to provide them with a concrete professional perspective and to encourage them to keep pursuing a career in science.




Title photo left to right: Prof. Dr. Werner Müller-Esterl, Dr. Christian Münch, Dr. Inga Hänelt and Dr. Daniel Merk, Prof. Dr. Simone Fulda, Prof. Dr. Günther Wess
Photo left to right: Dr. Christian Münch, Dr. Inga Hänelt and Dr. Daniel Merk

© Uwe Dettmer